Flavia Kate Peters
Hay House author FLAVIA KATE PETERS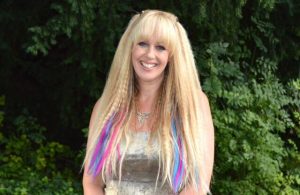 is known as The Fairy Seer who embraces the path of the Old Ways and that of Fairy-craft. A teacher of natural & ancient magic, Flavia Kate trains others through her professional certification courses at the College of Psychic Studies, London, and is a regular Presenter on the Mind Body Spirit & Pagan circuits. Television appearances include Celebrity Haunted Hotel, Lightworker's Guide to the Galaxy, along with various guest slots for BBC Radio. She  regularly graces the pages of Spirit and Destiny magazine and is a columnist for FAE Magazine and Witchcraft & Wicca. Her authentic and honest approach makes her a most sought after wisdom keeper and teacher.
Workshops at Stockport as follows Times TBC
MERMAID MAGIC! with Flavia Kate Peters ATP®, Mermaid Energy Healing System Founder/Master®
Mermaids are the guardian angels of the seas, empowering goddesses of the water. These alluring elementals help to ignite our own sensuality and seductive powers, whether male or female, and harness our natural powerful manifestation abilities. Time to reap the magic and abundance that has been bubbling under the surface.  Flavia Kate Peters invites you to dive right in to discover the magic of water and to stir the siren within, to uncover your inner treasure that is waiting to be revealed …
Workshop includes Mirror magic, Sea spells and Meditation 🧜‍♀️
UNICORN MAGIC! with Flavia Kate Peters ATP®, Unicorn Energy Healing System Master/Teacher®
Unicorns are highly evolved glowing beings of Divine light, keepers of myth and magic who who radiate dignity, honour, grace and compassion. These magnificent creatures assist us on a deep soul level to move forward spiritually and illuminate our path as we move into a great age of the Divine Feminine. In this workshop you will discover who the Unicorns are and how to commune with them. Journey, through meditation, with the Unicorns to your soul's remembrance and meet your Unicorn Guide who has the ability to activate your third eye and unlock any blockages on all levels.