Iza Moon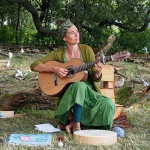 Iza Moon – my own personal,  spiritual journey has connected me more and more deeply to the Wonders of Mother Nature, Spirit and Universal Consciousness. The magic and mystery of this profound connection has been the primary inspiration for my Soul-Full Songs and Spoken Word. www.izamoon.co.uk
I will carefully create and weave together evocative Songs and enchanting 
Spoken
 word, to
 take the listener on an empowering, healing journey toward an expanded state of consciousness and a deeper connection to All that Is…Food for the Soul, from my heart to yours!
It is my loving intention to encourage us to remember our passions and our dreams and rediscover the beauty and the power which lies within each and every one of us….
for we are all sparks from the same Divine Flame. So share in this unity and ignite your spark.