Alf Withington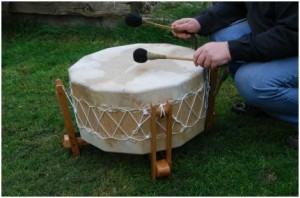 Alf  has always been attracted to Native American traditions, and has found the haunting sound of the love flute enchanting. But to make one good enough to call a flute worthy of the name, Alf  had to find out how, to cut a long story short, with help of numerous friendly and encouraging makers in America, especially Keith Stanford in Arizona, and his continuing support. With their help, and two or three bits of wood Alf  had, the first three flute where born, and he was hooked.
Alf's  intention is always to uphold the traditions of those skilled craftsmen in America, albeit from his small workshop in the depths of Lancashire a long way from their native origins and yet Alf hopes that with each flute he can infuse a little of our Celtic origins, a blend of the spirit of both.
All the flutes Alf makes are hand crafted in the Northwest of England, from various types of both hardwood and softwood.
Although they are made a long way from their North American origins, he honours their traditions, forming each flutes as best as he can in their ways, yet he also tries to add something of the mysticism and spirituality of these Celtic Isles.
Each flute has its own character as each piece of wood comes from its own individual tree.  There are never two flutes exactly the same.  They may be in the same pitch but there is some life of the wood that marries to the instrument.  Alf can give it shape and note but each piece adds its spirit to give life to the sound.  It is something that brings Alf back to form the next, a pleasure that makes the whole process a joy.
Come and meet Alf at the next Mind Body Spirit Event to find out more about his hand crafted flutes, or visit Alf's website for more information.