Angel Buddies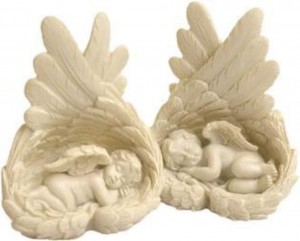 I am a busy mummy of twins, my two little Angels are Grace & Gabriel,they keep me very busy, but i wouldn't change it for the world.
I wanted to share with you my love for Angels. I was inspired to create this after making my
"Comfort Angel Bags" which i gave to family & friends in memory of my Grandad.
These are now my best sellers and are not only purchased as a rememberence gift, but just to let someone know that they are not alone, at that time in need.
I believe that giving gifts or friendship tokens can be done throughout the year, and not just on a special occassion. So i wanted to bring to you quality items to suit all budgets,so you can brighten up someones day.
My collection of Angels, Heartfelt Keepsakes and New Age items will bring you lots of joy & happiness.
This is when Angel Buddies was born !
I hope you enjoy my collection.
Sending sparkles of love your way x – www.angelbuddies.co.uk