Bearstees.co.uk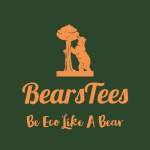 The Part T
hat Really Counts
Eco clothing is by no means a new concept, its been around for years, but what we and of course you really want to know….is it really Eco? Can you show the whole journey? Can you prove it? These are the questions we and you really needed answering before we could go ahead and put our hands on our heart and say YES!
We at Bears Tees want and need you, our valued customers, to know that we have done our due diligence and our research to bring you products that have as little negative impact on our beautiful planet as we possibly can. We, like you, are passionate about protecting our environment, slowing global warming, protecting people's human rights, not harming animals, reducing pollution and using natural and renewable energy.
We think we have achieved this, but will always strive to change and adapt and improve wherever and whenever we can www.bearstees.co.uk..