Crystal Skulls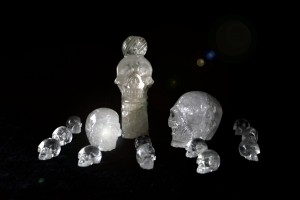 Activator Skulls Eternal Flame and Jeshua
All my skulls are lovingly prepared and imbued with Master Skull energies including the 13th Skull, Christ Consciousness, Divine Feminine and Goddess  Sound stream frequencies and are connected  to Source.
Some are Protectors, Healers and Visionaries, they are all activated and ready to work.
Janet Will Be Providing A Workshop Power of The Crystal Skulls Workshop Both Days this will include the prophecies, history, crystalline grid and how you may individually use them, that sense of connectedness.