Iza Moon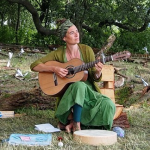 Iza Moon – my own personal,  spiritual journey has connected me more and more deeply to the Wonders of Mother Nature, Spirit and Universal Consciousness. The magic and mystery of this profound connection has been the primary inspiration for my Soul-Full Songs and Spoken Word. www.izamoon.co.uk
I will carefully create and weave together evocative Songs and enchanting 
Spoken
 word, to
 take the listener on an empowering, healing journey toward an expanded state of consciousness and a deeper connection to All that Is…Food for the Soul, from my heart to yours!
It is my loving intention to encourage us to remember our passions and our dreams and rediscover the beauty and the power which lies within each and every one of us….
for we are all sparks from the same Divine Flame. So share in this unity and ignite your spark.
SATURDAY – NEW DESIGNATED TAI CHI  – YOGA AREA & Extra Talks Workshops In The Main Hall
Talks & Workshops Designed To Inspire & Guide You Saturday 28th October 2017
12:00pm – During this workshop Iza will use her beautiful, soothing songs, inspirational spoken word and empowering visualisations, to encourage our divine connection to the immense healing energies of Mother Nature. Iza will also be talking about her unique practice of 'Medicine Songs'…a heart centred healing modality which she has developed whilst travelling the magical peaks, vales, dales and woodlands of England. This is a powerful 'Energetic Medicine' which she now offers to others on a One to One basis. With Iza Moon 
Upstairs Talks & Workshops To Inspire & Guide You  Sunday 29th October 2017
3:15pm – 
Phoenix From The Ashes. Understanding and working with the energy of Sacred Fire
(which can be a single candle or an outdoor fire) can help us to bridge the gap between the physical world and the ethereal world, encouraging alignment of Mind, Body and  Spirit, thus bringing into reality our hopes, dreams and intentions, both on a personal and planetary level. During this workshop, Iza Moon  (Sacred Fire Keeper) will use her inspirational songs, spoken word and visualisations to conjure up the magical essence of Fire Ceremony,  whilst also delivering knowledge and wisdom which unveils the mystery of this ancient and powerful healing modality. Discover the fire  within…for we are ALL sparks from the same flame.
With 
Iza Moon