John Richardson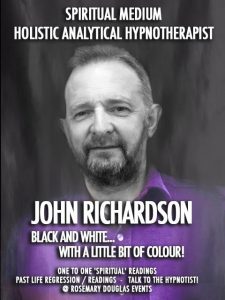 John Richardson  – Book Your Spirit Medium Readings 
MASTER HYPNOTIST/PAST LIFE REGRESSION THERAPIST
Workshop Harry Horn Room 2

12:00pm – Learn more about Past Life Regression & Spiritual Connections including John's fascinating demonstration showing you why hypnosis is nothing to fear. John Richardson has been a Professional Stage and Clinical Hypnotherapist for many years, his talks and demonstrations are packed with information and fun… Yes Fun. You will soon see the benefits of Hypnosis and how Hypnotherapy can help you (Same both days). FINISH 12:30pm Both Days
MIND HEALING THERAPY 'INVOKING THE POWER OF THE MIND TO HEAL'#MAN HEAL THYSELF
The healing capabilities of the Mind are, to most, humanly inconceivable and significantly greater than we have ever before been allowed to believe: To the point of no illness is necessarily incurable. Therefore, by bringing some persistent and residing illness to the forefront of the Mind's attention a diagnosis is made and a cure administered, thereupon a full recovery expected: The Mind, in-turn, expeditiously restoring human health by sheer default, as health is not a privilege, it is a human birthright, and the body's natural state. We are all born with the powerful ability to heal: Mind Healing Therapy invokes and fully utilises the Mind's innate healing power to assist the body in ridding itself of all unwanted organic Ailments.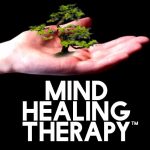 'DISEASE CAN MANIFEST ITSELF AS A PHYSICAL ERUPTION OR MENTAL DISORDER AND
NO ATTEMPT SHOULD BE MADE TO CURE THE BODY WITHOUT THE MIND & SPIRIT.'
Orthodox methods of healing are all too frequently administering to the physical manifestations that an illness displays whilst the real cause and cure remains deeply hidden within the unconscious Mind: Consequently, illness will never be cured by tangible methods alone. The Mind's distracted- negligence, ease of acceptance and lack of intellect and momentary-understanding is what all too often lies at the crux of the problem: Accepting the unacceptable. Mind Healing Therapy offers a wide variety of innovative and advanced techniques, from Mind Imagery Reprogramming (MIR) to contemporary Radical Psychic Surgery (RPS), to direct and awaken the Mind to some neglected, accepted or forgotten illness that is in need of its utmost attention and thus invoking the power of the Mind to heal. As Mind Healing Therapy is for Physical Ailments, so is Hypnoanalysis for treating the mind itself; including psychogenic, psychosomatic disorders, that may at first appear physiological in origin: Hypnosis (or Meditation) being the medium to facilitate both procedures.
STATEMENT OF TRUTH:
'MAN KNOW THYSELF AND THOU SHALT KNOW THE UNIVERSE.'
John Richardson is a compassionate and gifted healer: His credo of One Universal Consciousness and his holism-recognition of the sacred trinity, Body, Mind and Spirit, and that no attempt should be made to cure the Body without the Soul: Along with a steadfast belief and prodigious understanding of the Mind's fathomless powers allows for extraordinary healings, especially in times of hopeless and helpless need: Never accept another man's impossible as your truth! Using the Mind to heal the body is nothing new. Born with man himself in the original Eden it became lost in the mists of time. With a full circle now turned we are once again looking towards the Mind as the prescriber of the cure, rediscovering man's intrinsic, inborn physician: Natural and Essential. Mind Healing Therapy taps into the power of the Mind to assist in the recovery and prevention of all Physical Ailments.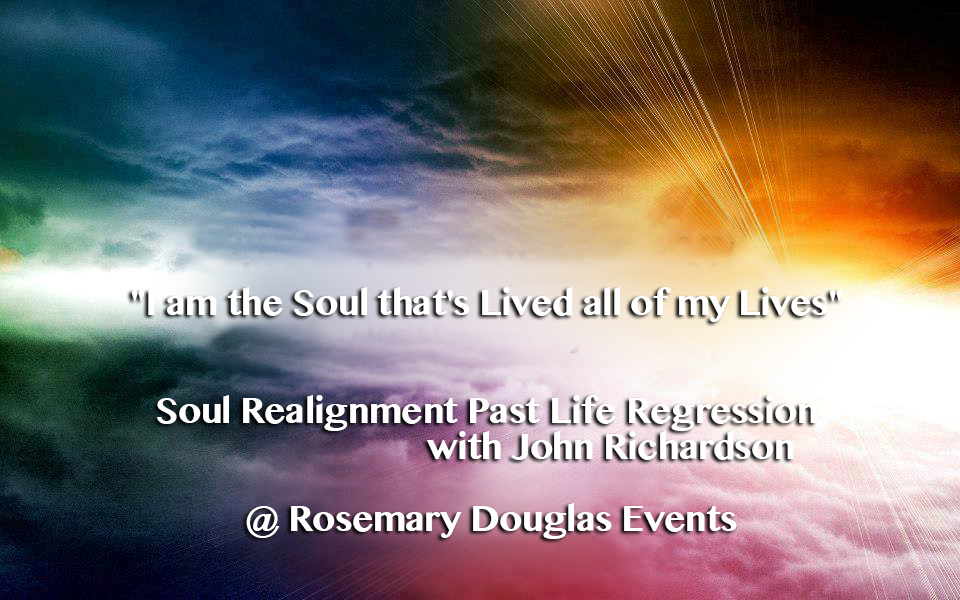 JOHN RICHARDSON PSYCHE-HEALER
MIND HEALING THERAPIST / MASTER HYPNOTIST
TEL: 07800584077 WWW.FEELBETTERFAST.CO.UK
Private consultations are also available @ The Feel Better Fast Clinic Hypnotherapy; Coaching & Counselling
Upper Denby, Huddersfield, West Yorkshire
MIND HEALING THERAPY™ © FEEL BETTER FAST 2015