Mohammed Irshad
Come, Come, Whoever You Are
Wonderer, worshipper, lover of leaving.
It doesn't matter.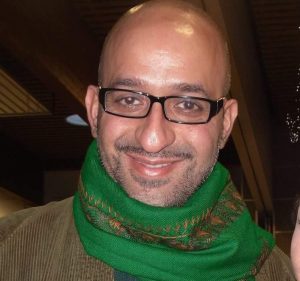 Mohammed Irshad 'The Touch' Sufi Healer – Mentor / Guided Meditation Teacher –  Whirling Dervish.
I was born in Sheffield in the 1970s, at a young age I started practising Wing Chun a form of martial arts. Having practised this form of martial arts which included a major element of spirituality, I started my spiritual healing and Martial Arts practise: 'The Touch'.
What I do is very different to the conventional massage. What makes 'The Touch' different is that once a person has been treated under 'The Touch' therapy I hope the individual walks away knowing that there will be hope, happiness, peace and love within.  Our teaching is simple, and it comes from a Sufi background, it teaches us to search for the Divine, for the Beloved and not to be lost wanderers of this materialistic world.  The therapy can include any element of Reiki, Acupressure, Head & Body massage and Sufi Healing, depending on the needs of the individual. Guidance will be given throughout the treatment, it is important to listen carefully to the advice being given.
Sufi Healing is based on a Spiritual Guide connecting with your inner being and helping you to understand which element needs healing or addressing.  For one to overcome inner difficulty whether it is physical, mental or spiritual, through vibration chanting and intuition one will be guided to inner awakening and more self-awareness about themselves.
The Touch is NOT just a healing or massage, its inner awakening and awareness to one's state (physically, mentally & spiritually)
Vibrational chanting is poetically chanted in Arabic over different areas of the head and body. The client will feel the vibration within the body and energetic field.  The words are deeply meaningful and hold authentic vibration which aids the healing of the cells and atoms within the body.   The chapters spoken are also a very powerful way of clearing negative energy, unwanted energies and entities.
Sufi chanting is made of sounds that are groups of frequencies that reach the ear then move to the brain cells and affect them through the electronic fields these frequencies generate in these cells; the cells will respond to these fields and modify their vibrations, this change in the vibration is what we feel and understand after experience of the repetition of the chanting.  It is the natural system that our Creator gave to the brain cells; it is the natural balance system for the physical and spiritual wellbeing. Given the right chants or sound waves at the point or place where it most effective, one will most surely feel a new stature of self and inner strength and peace, or a great relief of sorrow and tension from the physical body, making us understand more about our self, and our inner self, even more. Thus we become whole, resonating to the whole and healthy frequency of being.
Come, Come, Whoever You Are
Wonderer, worshipper, lover of leaving.
It doesn't matter.
Ours is not a caravan of despair.
Come, even if you have broken your vow a thousand times
Come, yet again, come, come. 
Rumi.
Workshop Saturday 1:00pm –
How to meet your soul: – The truth behind characters and habits that are not a part of the soul.
The power of mantra: – To understand how to reconnect to ancient vibration.
The tricks of the ego: – To understand what your ego is? where it comes from? what it does? and how to control it?
Workshop Sunday 10:15am –
Sufi meditation energy: – Sufi mediation is a higher vibration method to disconnect you from worldly desires and reconnect to heavenly support.