Nantwich – 2nd & 3rd March 2019
Nantwich Civic Hall, Beam Street, Nantwich, Cheshire, CW5 5DG
( Next To Bus Station & Only Short Walk From Train Station )
10:00 am – 5:00 pm Workshops Extend Until 6:00 pm
To contact the organiser for a prompt response call 07828 187 468
FREE MAGAZINE , FREE RAFFLE DRAW, FREE WORKSHOPS

Discount Advance Tickets
Advanced Tickets Prices: CLICK HERE
Concession – £3:00, Adult – £3:50
Weekend pass Concession – £5, Adult – £6
Tickets purchased on the door are subject to additional £1 fee.
Nantwich is an absolutely beautiful historic town, if you have not visited you ought to. It is an atmospheric market town with lovely friendly people. It is a town with a great sense of community spirit which is an intrinsic part of its character.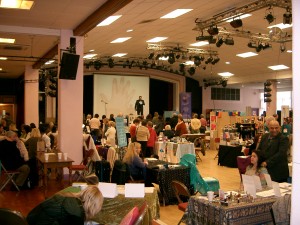 The Venue for this Mind Body Spirit Event, Nantwich Civic Hall, is in an ideal position as it is in a central location for public transport with the bus station right next door to it and it is within walking distance of the train station.
Parking spaces at the venue and around the town, lots are free & certainly free on all car parks in Nantwich on Sunday The in-house café  is excellent value and quality and can be found in the main in the main hall where the whole event takes place.
A Brief Video of One of our Past Events
The ambience in this hall is lovely. It is a light airy and spacious room, conducive to everyone's needs. Such an auspicious event. As you can see from the picture of our last event, the hall has a wonderful intrinsic energy so conducive to the healing and energy on the day and you will be imbued by just being in there, join this energy filled, vibrant, magical event , it is that good. It's a great show.
50 + Exhibitors and 30 + Talks & Workshops In Two Designated Areas
Stage Demonstrations 1pm both days of Chen Style Tai Chi.

International Mediums including Simon Goodfellow, David Traynor, Stephanie J. King, Shirley Rose, Leigh Rebekha, Mark Aston, Angela Welsh, Laini St Prior, Lisa Perkins, including Crystal Ball, Palmistry, Psychometry, astrology with Jackie Townsend & Rune Readings With Alison Dean, Psychic Art With Kaye Anna Law, & Aura Photography With Kevin Doe from Aura interpretation. Aura Some With Susan Bailey.
International Healer's Crystal Bed Healing Irma Ziolkowska with Healing from John of God, Unique Ayurvedic spiritual therapies, Reflexology Reiki, colour therapy and chakra balancing and shiatsu. Teaching self help via hands, ears reflexology and pranayama yoga (breathing exercises) plus Hopi candling. Indian Head Massage, Past Life Regression With John Richardson, Homeopathy With Local Homeopath Julie Melbourne, Rachel Egan from As One Holistics Who is Offering Angelic Reiki, Usui Reiki, and is a Reiki Master , also Rachel Specialises in Animal Healing & Communication too & other healing methods.

Retailers of Unique Crystals, Orgonite Pyramids, Gemstone Jewellery, Magnetic Wellness Jewellery from Magnetix, Aromatherapy oils Wall Hangings, Yoga Mats, Yoga Cushions, Salt Lamps,  Singing Bowls, Flutes , Drums, CDs, Books, Clothing, Buddhas many other unique products.
Book Ahead Your Angel hair Strands or spirit strands, you can have these done at the show with Flavia Kate Peters. They really do look great and can last for many weeks up to 8 weeks some people say. How good is that.
     To Contact The Organiser For A Prompt Response: 07828 187 468

Two Workshops Areas – The Main Hall and Upstairs Room
Enjoy Enjoy Enjoy
Upstairs Talks & Workshops To Inspire & Guide You Saturday 2nd March 
DESIGNATED Extra Talks – Main Hall & Workshop Area:
11:30am – Join Dawn Murray – Alchemy of Emotions for Ease & Grace Learn about the emotional benefits of essential oils and the importance of purity and potency. Dawn will also be sharing with you, how to create and use emotional blends for 'Ease & Grace', incorporating them into daily practices of affirmations, journaling, meditation and emotional exercises to support emotional well-being.
12:30pm – Find your soul's purpose with Aura Soma consultants with Susan Bailey 
1:15pm – Breathing Visualisation for Balance in Everyday Life In this session Julie Melbourne, homeopath and meditation teacher, shares a simple technique for use even when time is limited.  Amidst the pressures of modern life this brief, but highly effective, breathing visualisation exercise holds the potential to de-stress, bringing calmness to the mind, balance to the emotions and stability to the body.  Practised for just a few minutes daily, it increases concentration, energy levels and resilience and promotes a sense of well-being.
2:00pm – Runes are like learning a language and takes time to learn so I want to start your journey with runes. The first thing is to: more info Click the name Alison Dean 
3:00pm – Clive Howell Observe & or Join In With This Graceful Uplifting Movement The Chen Style Tai Chi Workshop (Both Days Sat & Sun)

Enjoy Enjoy Enjoy
Upstairs Talks & Workshops To Inspire & Guide You Sunday 3rd March
DESIGNATED Extra Talks – Main Hall & Workshop Area:

Advanced Ticket Prices:
Adult: £3.50 per day or £6.00 full weekend ticket (Sat & Sun).
Concession: £3.00 per day or £5.00 full weekend ticket (Sat & Sun).
Accompanied Children 15 years and under are free of charge. 
Tickets purchased on the door, on the day incur an increase of £1 per ticket as advertised.
To purchase tickets in advance visit our dedicated online ticket store, CLICK HERE or by contacting any of the following tourist information centre
Nantwich Tourist Information Centre (01270 303150). 
Congleton (01260 271095 or 387718).
Macclesfield (01625 378123).
Directions: 
Nantwich Civic Hall, Beam Street, Nantwich, Cheshire,  CW5 5DG Leave the M6 Motorway at Junction 16, at roundabout take the 1st exit onto the A500.
Continue through two roundabouts on the A500.
At the 3rd roundabout take the second exit on to the A51 (past Cheerbrook on the right) Continue through traffic lights for approximately one mile.
At roundabout go right 2nd exit then straight across next (Nantwich Vets on left) onto Millstone lane (B5074) to traffic lights.
At lights go left onto Beam Street.
At Bus station on the left take next left onto Market Street.
Civic Hall and car parking is within close proximity and behind the venue free parking all car parks on Sunday and many spaces on the road free all day just look for the signage.