Sheri Dixon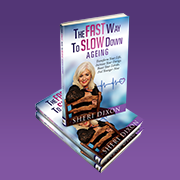 ♥ Talks & Workshops To Inspire & Guide You Up stairs or Via Lift ♥
  What's On In The Harry Horn Suite Room 1 – February 1st 2020
12:00pm – Sheri Dixon From Mitochondrial Therapy® Will talk about her book "The Fast Way To Slow Down Ageing". How would your life change if you could rewind your body clock? Learn about the cutting-edge field of Mitochondrial Therapy® and Anti-Ageing success stories using a little known Russian supplement. Take control of your health to ensure the second half of your life Is superior to the first! 
N.B. Everyone who attends this talk will be gifted a free copy of her book.
Mitochondrial Therapy – HRV Testing, Bespoke Nutrition …
Mitochondrial Therapy
involves a 5-minute heart rate variability test (HRV). Mitochondrialtherapy.com is run by
Sheri Dixon
, assisted by Dr. Michael Kucera.
Tired or irritable? Struggling to lose weight? Lack libido, crave sugars, or losing your zest for life? Mitochondrial therapy
may be the solution for you.