Stockport – 28th & 29th November 2020 CANCELLED
CANCELLED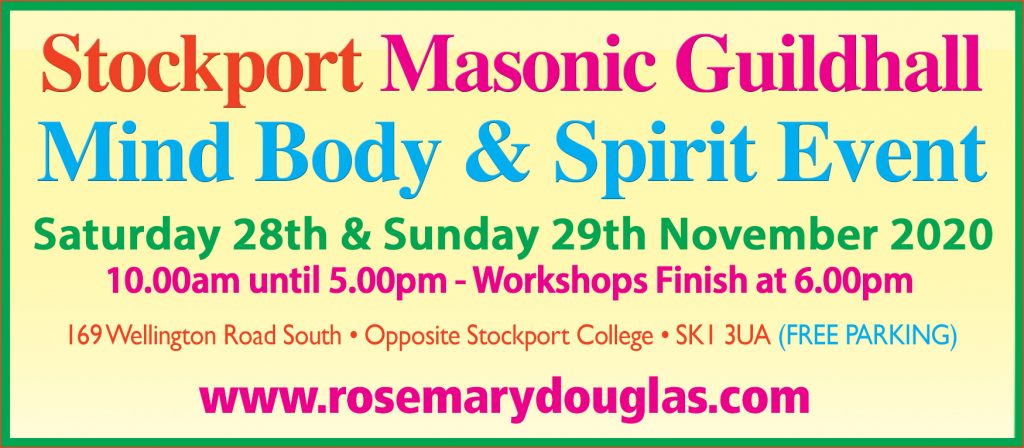 10 :15am Both Days At Stockport Guildhall Mind Body Spirit Event
Opening Soundbath Meditation – Himalayan Singing Bowl and Hand-Pan Relaxation
With Christian Jensen Dip.MCMA, Sound Therapist and Reiki Practitioner

During this session, as you settle down within the space, along with a variety of other instruments, the depth and gentle tones of the Singing Bowls and Hand-Pan will take you on a journey deep into relaxation, enabling you to rest, relax and release, cleanse your aura and balance your chakras.
https://www.soundjourneybychristian.co.uk/
A Sound-Bath is the perfect way to relax and rejuvenate by creating positive vibrations for the mind, body and soul, as you are taken deep into the 'Delta' brainwave frequency, where the most restorative form of healing can take place.
Himalayan Singing Bowl and Hand-pan Relaxation Native flutes and possibly didgeridoo, to lull attendees into a state of deep relaxation and healing through sound. https://www.soundjourneybychristian.co.uk/
Try This For Now A Deep & Powerful Meditation & Chakra Healing with 432Hz Crystal Singing Bowls…
Description for the video……. 
Sit back, close your eyes and relax, take a deep breath and as you bring awareness to your mind and body, allow your muscles to begin to relax, while still concentrating on your breath, noticing this too, beginning to regulate. You will find as you begin to settle to the sounds of the 432Hz
Crystal Singing Bowls and the gentle, subtle sounds of the birds singing, imagine yourself sitting in the space, warm in the sunshine and just let go of all other thoughts around you, feel the stillness, and absorb the tranquil sounds, the deep meditative sounds. Notice yourself going deeper and deeper into that space of stillness, where you are able to totally relax, allowing time for the mind, body and soul to just be…….
5pm Until 6pm Each Day – The After-show Workshop Will Be
'The Purple Church Spiritual Healing Circle' Facilitated By John Richardson and– John will first give a brief informative explanation on Spiritual Healing, his Theories and Practices, to be followed by a group Healing Circle for all to partake in receiving Healing for themselves or others. The Mind is a receiver and a transmitter: When the root cause of a problem is in the spiritual dimension, then it needs to be counteracted or treated by some method that is spiritually more potent than the cause of the problem. This is termed as spiritual healing. It involves the use of Spiritual Energy to overcome the problem… When conducted in a group the healing is therefore amplified and becomes that much more potent. John Richardson is an emphatic, compassionate and gifted healer: His credo of one Universal Consciousness and holism-recognition of the sacred trinity, Body, Mind and Spirit, and that no attempt should be made to cure the Body without consideration of the Soul; along with a steadfast belief and prodigious understanding of the Mind's fathomless powers allows for extraordinary healing – Health is your birthright, so Join John and his team of Spirit Doctors, Healing Guides, Spirit Guides, Spirit Family and Spirit Helpers, and receive the healing you truly deserve in a place where everything is possible and nothing is impossible!!! .
Full Details Coming Soon – Some Scheduled Times Are Alluded To On The Leaflet 
Talks Workshops To Inspire & Guide You All Included In The Entrance Fee 
During COVID 19 We Would Like You To Stay Well , Stay Positive, Stay Strong, Stay Alert, Meditation Is Good, Exercise Too, Healthy Diet , Good Nutrition Is Important, Vitamin Supplements Can Also Enhance Your Well Being, We Will Be Back Because We Love What We Do & We Want To Share it With You & To This End We Are Planning The Next Events Of 2020, We Are Just Waiting For The Heads Up.