Usha Henderson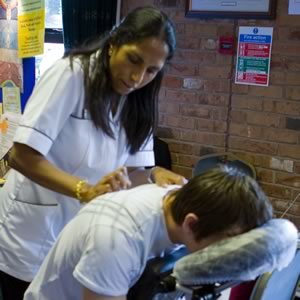 A Spiritual Holistic Complementary Therapist and Counsellor, Usha is from India having a long experience in Alternative Therapies and Herbal Medicine.
Usha is a firm believer of Self-Help with hand, Ear Reflexology and Pranayama Yoga ('Prana' means life force 'Ayama' means development) – this is a separate practice to help clear and cleanse the body and mind to help eliminate all ailments.
Usha strongly believes that the body can heal itself completely, all we need is our cost free efforts once we learn how.
Usha specialises in Ayurvedic Reflexology, Authentic Indian Head, Neck, Shoulder, and Back Massage, Reiki and Hopi ear Candles, incorporating stress and anxiety Counselling, Reiki, Colour and Chakra energies therapy with spiritual healing.
Usha will be available at the Stockport Mind Body Spirit Event and will be offering treatments.