Amazonite Griffin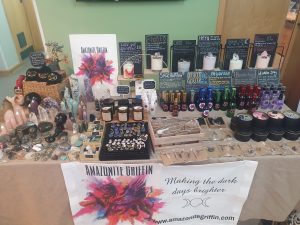 Meet Anna Who Has Done Several of Our Events .
Her Products & Her Wonderful Personality Have Meshed Beautifully With Our Visitors.
Retailing enchanted products created through alchemy, herb lore and crystal healing, blessed and charged with Reiki making the dark days brighter
Ranging from candles, bath scrubs, salts, aura sprays, facial oils and crystals, carvings, jewellery and accessories vegan and eco-friendly supporting the planet and you
For The First time Anna Will Be Doing A Workshop Sunday Only Room 3
1:05pm – 1:50pm: (Sunday Only) Join Anna Haines From Amazonite Griffin
People Often Think The Divine Feminine Is Only For Women But It Is Actually For Everyone We All Carry It Within Us.
Divine Feminine Is An Energy That Has Been With Us Since Ancient Times It Represents The Connection To The Part Of Your Consciousness Responsible For Nurture, Intuition & Empathy Regardless Of Gender.
It's Your Wisdom. We All Have Masculine & Feminine Aspects These Two Energies Can Become Imbalanced. This Talk Is To Remember Our Spiritual Divine Feminine Appreciating & Celebrating All The Wonderful Aspects of Yourself That Reflect The Divine Feminine Through Crystals. Giving You The Opportunity To Balance That Energy By Allowing Your True Feminine Side To Be Expressed & How To Reconnect.