Lisa Perkins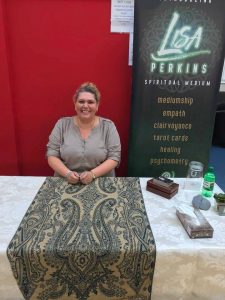 You can contact Lisa Direct For Appointments on 07905034796
I
have always been aware of the beautiful light beings  around me and Spirit around me.
It was over a period of around 2 years whilst I was poorly with my mental health and that through complimentary therapies I became very aware of my own Spiritual Journey.
I then Met Mr Simon Goodfellow my mentor and teacher. 
After meeting Simon and receiving beautiful messages from spirit and passed loved ones, my path became very clear.
I felt a very strong connection with Simon. I attended all courses with Simon Goodfellow to gain knowledge and a transparent understanding of my gift. During my learning period I meditated a lot and surrounded myself,  at every opportunity with like minded people. 2019 was my first MBS event. 
Since then I have continued with my Spiritual development and work with spirit every day.
I am grateful to my guides and angels for guiding me on this truly eventful path, it's never dull.
I am deeply privileged and always grateful to spirit, clients and colleagues.
I strive to continue to be the best ambassador I can be  for the spirit world.  I look forward to meeting you.
Demonstration of Mediumship Upstairs Room 3 Sunday 11:20am 
Demonstration of mediumship sharing messages from loved ones in the spirit world.
Lisa  looks forward to meeting you, love, light and blessings to you all.

Stockport Masonic Guildhall – 2nd/3rd September 2023