Magnetix Wellness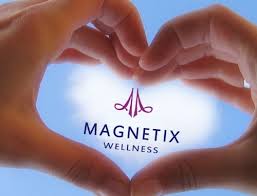 CAROLINE & PAUL CHECKETT INTERNATIONAL MARKETING DIRECTORS FOR MAGNETIX WELLNESS.
ALWAYS WORKED TOGETHER !! That's how they met.
Both hairdressers by trade. Had their own successful hair and beauty salon in Marbella, Spain for the last 16years (until July '14) Evolvement with Magnetix Wellness started in January 2013. Never looked back since.
Love the company, it's concept and the products. The products, not only beautiful jewellery and accessories but with a truly wellness effect. Amazed by the results it has had on ourselves, family, friends and massive client base. Testimonials blew us away. What started out as a product line in the salon soon became an extra income and flourished to a proper full time business followed that. The business concept was very exciting and we are now back living in the UK working full time with recruited consultants, representatives & Marketing Directors from Blairgowrie way up in Scotland to Ashford down South in Kent. Not forgetting our International consultants in Spain & Scandinavia.
Magnetix Wellness jewellery & accessories for ladies , gents and your pets !
The beautiful jewellery collection comes from Germany and is made from Stainless steel .
Every piece contains a magnet and some pieces have copper too . The power of magnets.….
Magnetism is an ever present force that affects everything , everywhere including mankind, animals and the plant world.
Not all magnets are the same. Our jewellery and accessories are fitted with particularly durable neodymium magnets,which are amongst the strongest magnets in the world
Copper Is especially prized for its natural antibacterial and anti-inflammatory properties.The use and wearing of magnets & copper is nothing new. Their influence was recognised extremely early in human history, and their therapeutic properties were used for healing purposes.
Pre Christian civilisations , such as the Chinese and hieroglyphs from Ancient Egypt and Aristotle's records document magnetic healing procedures.
It is not only for aches and pains. Once you wear a magnet you become grounded and balanced and in line with the earths magnetic fields .
This can help with many things – joint pain , arthritis , migraines , breathing, sleeping and in general our wellbeing !
So not only does the jewellery collection look fantastic it does good too !
 http://www.magneticwellnessjewellery.co.uk/about-us/
Caroline & Paul Work from home, to presentations at businesses, to home parties, to fairs and county events, to large exhibitions. This business is very sociable, fun, exciting and you can do it part time to top up your income or make it your full time job with limitless earnings.